Wedding Décor & Decorating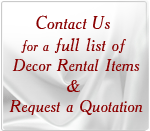 Whether you are looking for do it yourself décor, discount wedding décor or the very finest in event décor; Fantasy Wedding Rentals can accommodate your needs. Having over 1000 wedding décor and event planning projects to our name and serving markets such as Burlington, Oakville, Hamilton and surrounding areas we can offer personal and professional consultation to make your special day unique and worry free.
Meet with a Fantasy Wedding Rentals team member and together we can customize any decorating package. New this year beautiful crystal beaded backdrops. Wedding and event decor packages starting at $325.
Event Décor and Wedding Décor items available for rent include:
Backdrops; ranging in size from 10 to 24 feet long and come with mini lights at no additional cost.
Matching candelabras or wedding arches
Chair Covers: Do it yourself chair covers, cheap chair covers,
Ceiling Swags & Treatments : From a quaint little 4 piece to a large 12 piece Swag, everyone is customized with your input to your venue.
Naturally, everything can be delivered to the banquet hall of your choice. Some restrictions apply. Contact us to disucss your Event Booking.
* Click a photo to enlarge
Cainsville Ceiling Swag
Backdrop with Swag upgrade - Burlington
Backdrop with Swag upgrade - Oakville
Standard backdrop with 2-tier head table
Standard Head Table Decor - St. Lukes Burlington
Head Table with Custom colour and Backdrop Bigamens
Standard Gift Table Decor Burlington
Victoria Park Guest Table
Standard Cake Table Decor
Standard Arch
For more decor images, please visit our Chair Cover, Gallery and Ceiling Decoration pages.